Our web application streamlined our client's hospital hardware assessment and report generation processes, saving them valuable time and resources.
Business Vertical:
Healthcare Technology
Main Challenge:
The challenge involved labor-intensive and time-consuming manual data collection for hospital assessments, resulting in arduous and delayed report generation.
Introduction
Our esteemed client stands as a preeminent provider of comprehensive IT solutions and services tailored specifically for healthcare facilities. Their extensive offerings span enterprise, departmental, and nationwide healthcare engagement solutions. These encompass a range of vital services including
Electronic Health Records (EHR)
, Emergency Department Information Systems (EDIS), Revenue Cycle services,
Patient Access Solutions
, and cutting-edge Patient Engagement Solutions. They help hospitals maximize the value of their investments every step of the way.
Business Need
The client's specialized networking team regularly conducts comprehensive hardware assessments in hospitals, meticulously documenting equipment details in vital departments like Laboratory and Radiology. This includes items such as printers, scanners, workstations, and mobile units. The current process involves manually transcribing assessment information and reporting into a Word document, ensuring adherence to specific formatting requirements, which proves to be both labor-intensive and time-consuming, taking up to 4 da Recognizing the need for efficiency, the client sought to automate this reporting process.
Challenges
Data entry during assessment: It was quite challenging and time consuming to effectively collect and report increasing volumes of data manually in word documents in a specific format.
Analytics: Analyzing the data collected and processed in real-time, to help the client with the recommendations to improve the software and hardware levels as per the business requirements.
Monitoring: The lack of visualization and monitoring of the data for reports respectively was delayed due to the manual process.
Solution
A boot-strap web application was meticulously developed to streamline the data capture process. This application empowered users to input essential details including hospital and department specifics, as well as hardware inventory and networking team recommendations. The assessment team could securely store information in their i-pads in real time, the application helped them effortlessly generate a comprehensive report at the simple click of a button within a 10 minutes. This transformation eradicated the need for redundant data entry on paper and manual report compilation, delivering a streamlined and time-saving solution.
Solution Architecture
Architecture Diagram: Hardware assessment tool (PHP based web application)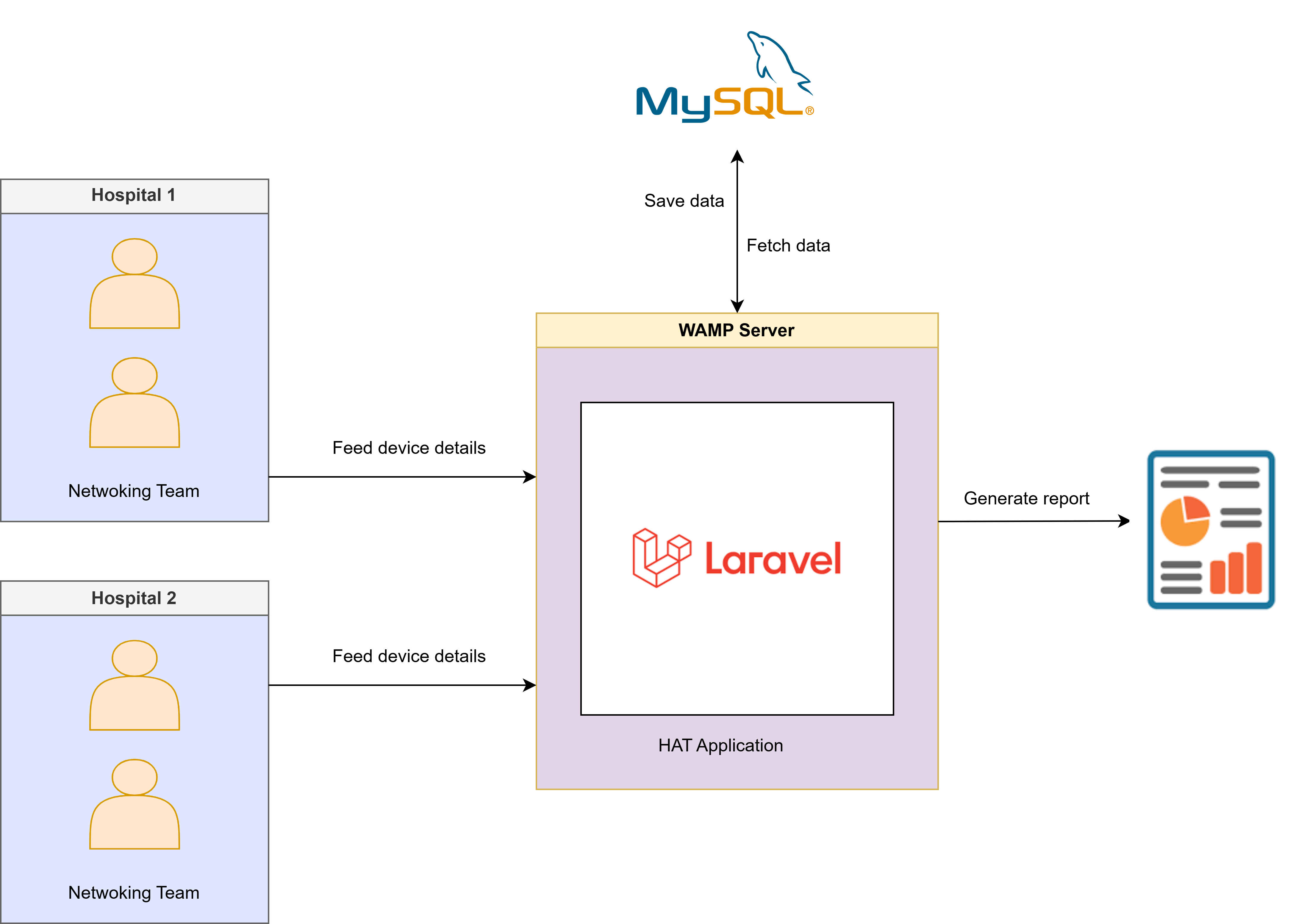 Technology Stack
PHP

MySQL

Wamp Server

Laravel
Result
With the implementation of the web application, our client experienced substantial time savings. The arduous process of paper-based data capture and manual report creation was replaced with a streamlined digital workflow. Previously manual report generation tasks that took 4 days to complete were now accomplished in 10 minutes.Overall, the report creation process witnessed an impressive more than 95% reduction in time investment.
Want to streamline your data capture and report generation processes? Reach out to us to save your valuable time and resources.
>