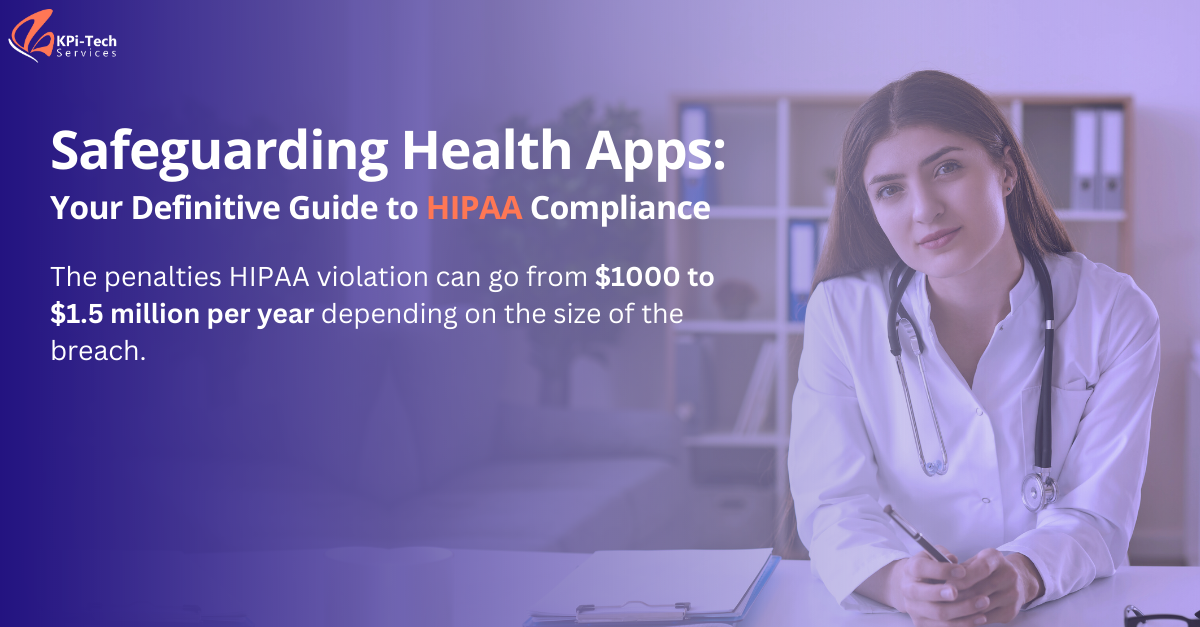 Safeguarding Health Apps: Your Definitive Guide to HIPAA Compliance
Adherence to industry compliance is crucial for the strategic planning of any healthcare startup. It entails adhering to essential regulations that are mandatory for the development of both desktop and mobile solutions. Failing to comply with these regulations can result in the rejection of your software or apps from the market.
In the highly competitive field of medical technology, ensuring that your medical solutions comply with new rules and regulations is a critical factor for success. With the potential risk of exposing sensitive patient information, the consequences of non-compliance are significant.
What is HIPAA?
HIPAA, which stands for Health Insurance Portability and Accountability Act, is a U.S. federal law established in 1996 to regulate the healthcare industry. It sets national standards to protect the privacy and confidentiality of patient health information, preventing unauthorized disclosure without patient consent.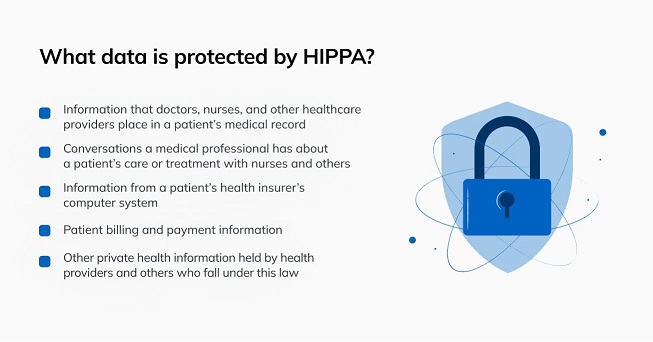 HIPAA applies to healthcare providers, clearinghouses, business associates, and health plans. It serves as the cornerstone of healthcare regulation and offers numerous benefits for healthcare providers.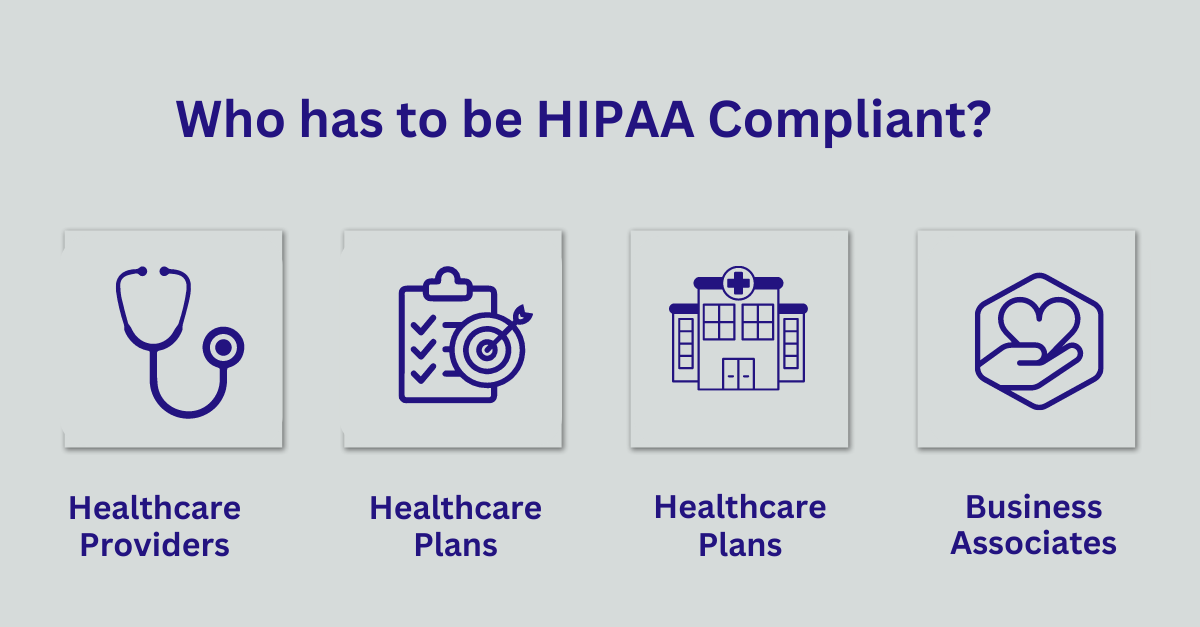 It's important to highlight that medical applications must obtain HIPAA compliant to provide services to customers. Without compliance, service providers and patients won't have access to the necessary data, hindering their ability to interact effectively. Therefore, it is crucial to develop software that meets rigorous HIPAA requirements and prioritizes high-level security, incorporating advanced technologies such as blockchain and encryption.
HIPAA Violation Consequences
Organizations that fail to comply with HIPAA regulations can face various consequences, including monetary penalties, civil litigation, and potential criminal charges. When instances of non-compliance are identified, the HIPAA law imposes penalties on entities that handle protected health information (PHI). It is crucial to understand that fines for HIPAA violations can be imposed by the HHS Office for Civil Rights (OCR) even if there hasn't been an actual breach of protected health information (PHI). The amount of monetary penalties can vary, ranging from $127 to $250,000, depending on the severity and nature of the HIPAA violation.
The severity of HIPAA violations is typically categorized as follows:
Tier 1: Violations that the entity was unaware of and could not have reasonably known about.
Tier 2: Violations due to reasonable cause, where the entity should have known about the violation but did not act with willful neglect.
Tier 3: Violations due to willful neglect, but corrective action was taken to remedy the violation within a specified timeframe.
Tier 4: Violations due to willful neglect, where no timely corrective action was taken to address the violation.
Is there a Certification for HIPAA Compliance?
There is no specific certification for HIPAA compliance. Being HIPAA compliant means adhering to the guidelines and regulations established by the authorities. Compliance is evaluated through audits and assessments conducted by regulatory bodies. It is important for organizations to implement and maintain HIPAA compliance measures to protect patient data and ensure data privacy and security.
HIPAA violation 2023
The penalties for bypassing the HIPAA compliance rules and regulations are massive. It can go from $1000 to $1.5 million per year depending on the size of the breach. Below are some recent violation cases:
iHealth Solutions, dba Advantum Health: This Louisville, Kentucky-based HIPAA business associate had an unsecured server in 2017, leading to the unauthorized theft of files containing ePHI of 267 individuals. The case was settled with a $75,000 fine.
Yakima Valley Memorial Hospital: The hospital in Washington State faced an investigation after 23 security guards in the emergency department were found to have snooped on 419 medical records. OCR determined the hospital's failure to implement appropriate policies and procedures, resulting in a settlement of $240,000.
Manasa Health Center, LLC: Based in New Jersey, this psychiatric services provider faced complaints about impermissible disclosures of PHI in response to negative Google Reviews. OCR found multiple violations, including impermissible disclosures, lack of policies, and failure to issue breach notification letters. The case was settled for $30,000.
MedEvolve Inc.: The vision insurance company, EyeMed Vision Care, owned by the Luxottica Group PIVA, experienced a data breach in 2020, leading to an impermissible disclosure of PHI of 230,572 individuals. OCR identified risk analysis failure, lack of a business associate agreement, and settled the case for $350,000.
David Mente, MA, LPC: A counselor and therapist in Pittsburg, PA, was found to have violated the HIPAA Right of Access by not providing a father with his minor children's health records promptly. The case was settled for $15,000.
Banner Health: The non-profit health system in Phoenix, Arizona, faced a hacking incident in 2016, resulting in the impermissible disclosure of PHI of 2.81 million individuals. OCR identified multiple failures, including risk analysis and technical safeguards, and settled the case for $1,250,000.
Life Hope Labs, LLC: The diagnostic laboratory in Sandy Springs, Georgia, failed to provide timely access to medical records, resulting in a settlement with OCR and a $16,500 penalty.



These cases highlight the importance of implementing proper safeguards, conducting risk analyses, and adhering to HIPAA regulations to protect patient privacy and avoid significant financial penalties.
Unsure About Whether Your App Requires HIPAA Compliance?
Online business and applications in the medical industry need to be HIPAA compliant. Compliance to HIPAA relies on two types of rules.
They are Privacy guidelines and Security rules. Under Privacy two things are important. One is that the information remains confidential. Added to this, its maintenance is also essential.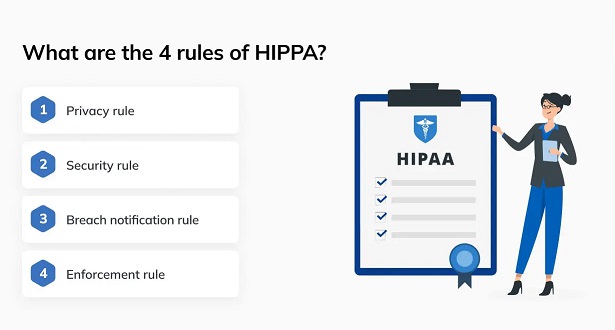 Here are three ways to determine if your app falls under HIPAA rules:
Users of the App: Continuous Planning: Examine your development and operations processes to discover what needs to change in order to use DevOps in healthcare. At this phase, the financial impact of the development, as well as the necessary human resources, must be planned.

Type of Data Stored: HIPAA compliance is mandatory for any application that stores PHI. PHI includes sensitive information such as patient diagnoses, prescriptions, treatment details, and health status. It also encompasses dentifiers like a patient's name, contact details, and biometrics. Since app-based PHI records are electronically stored, they are subject to HIPAA IT compliance.

Services Provided: If your app provides functionalities like electronic health record (EHR) management, telemedicine consultations, or any other healthcare-related services that involve the exchange or storage of PHI, HIPAA compliance is essential.
If your app falls into any of these categories, it will be subject to HIPAA regulations, and implementing HIPAA compliance measures will be necessary to ensure the security and privacy of patient data.
How App Developers ensure HIPAA Compliance?
Understanding the Scope and Purpose
To develop a HIPAA compliant mobile application, it is essential to have a clear understanding of the scope and purpose of the application. This involves defining the intended usage and purpose of the healthcare app. It is crucial for developers to know how to build an app for healthcare and identify the specific information that falls under the purview of Protected Health Information (PHI). This understanding ensures that the app is designed and developed to meet HIPAA compliance requirements. Some examples of PHI include names, phone numbers, email IDs, Social Security Numbers (SSN), and medical records. The US Department of Health and Human Services has specifically identified 18 types of information as PHI.
Establishing Physical Safeguards
One of the key requirements for HIPAA compliant mobile app development is the implementation of strong physical safeguards. This involves thorough checks of data transfer networks, backend support systems, and device integrations. As these applications involve data transmission, it is crucial to ensure that all necessary safeguards are in place to protect data integrity and maintain confidentiality. Prioritizing data protection and security measures is a critical consideration before initiating the app development process.
Implementing Administrative Safeguards
HIPAA compliant mobile app development necessitates careful attention to administrative safeguards, which primarily focus on the protection of electronic Protected Health Information (ePHI). It is important to share only the essential PHI across different platforms and pay close attention to Information Access Management. Access to PHI should be restricted to authorized individuals, and clearance levels should be defined to ensure proper access control. By considering administrative safeguards, the app can effectively protect ePHI and ensure compliance with HIPAA regulations.
Employing Data Encryption and Access Control
Data encryption and access control are crucial components of HIPAA compliant app development. It is essential to implement robust data encryption techniques and establish unique user identification to safeguard PHI. Additionally, emergency application access procedures and secure log-out sequences should be put in place to prevent unauthorized access. PHI data notifications should not be displayed on mobile devices to maintain data security and privacy.
Minimizing Data Accumulation
To ensure HIPAA compliance, it is important to limit the accumulation of data to the minimum necessary. The app should only collect and store data that is required for its intended purpose. By avoiding the storage or transmission of unnecessary data, the app reduces the risks associated with data breaches and enhances overall data security.
Prioritizing User-Friendliness
While adhering to HIPAA compliance requirements, it is essential to maintain a user-friendly experience within the app. Measures such as implementing fingerprint authentication can enhance security without compromising usability. Striking the right balance between security and user-friendliness is crucial for the success and adoption of a HIPAA compliant mobile app.
By addressing these key requirements, developers can ensure the development of a HIPAA compliant mobile app that effectively protects the confidentiality and privacy of PHI, while meeting the stringent standards set forth by HIPAA regulations.
Key Steps for Developing a Secure Healthcare Application
Developing a mobile healthcare app that adheres to the strict requirements of the Health Insurance Portability and Accountability Act (HIPAA) can be a complex endeavor. To ensure HIPAA compliance and protect sensitive patient data, it's important to follow a set of crucial steps during the development process.
Seek Expert Assistance for HIPAA Compliance
Partnering with experienced healthcare application developers who are well-versed in HIPAA compliance is essential. They can provide valuable insights, conduct compliance audits, and ensure that your app meets all the necessary requirements. Consider either hiring an in-house expert or outsourcing the development process to a reputable third-party specialist.
Understand and Identify Protected Health Information (PHI)
To develop a HIPAA compliant app, you need to have a thorough understanding of what constitutes PHI. PHI includes any individually identifiable health information, such as names, phone numbers, email addresses, Social Security Numbers (SSN), and medical records. Identify the specific data elements within your app that fall under PHI to ensure proper handling and protection.
Follow HIPAA Compliant Development Guidelines
Adhering to HIPAA compliant development guidelines is crucial. Pay attention to the physical and technical safeguards required to protect PHI. Implement robust data transfer networks, backend support systems, and device integrations to ensure data security during transmission. Your technology stack should align with the requirements and complexity of your app. Common frameworks like Laravel for backend, Vue.js or React for frontend, and React Native or Flutter for mobile development are often used in HIPAA compliant healthcare apps.
Design with Security in Mind
Place a strong emphasis on app architecture and security measures. Incorporate access controls, data encryption, and authentication mechanisms to protect PHI. Ensure that your app fulfills government regulations for healthcare software and follows best practices for secure coding.
Thoroughly Test and Verify Compliance
Testing is a critical phase to validate the security and compliance of your healthcare application. Conduct comprehensive software testing to verify the strength of encryption, authorization processes, and gateways. Simulate user interactions and evaluate the effectiveness of access controls. Adhere to Identity and Access Management (IAM) practices to manage user identities and permissions effectively.
Stay Current with HIPAA Regulations and Updates
HIPAA regulations and requirements may evolve over time. Stay informed about any updates or changes to ensure ongoing compliance. Regularly review and update your app's security measures and protocols to address new challenges and emerging threats.
Conclusion
Developing a HIPAA compliant app requires careful planning, adherence to guidelines, and attention to security measures. By partnering with experts, understanding PHI, following compliance guidelines, designing with security in mind, and conducting thorough testing, you can create a robust and secure healthcare app that protects patient privacy and complies with HIPAA regulations.
With our extensive expertise in Healthcare App Development and a comprehensive knowledge of important regulations like HIPAA, including our team of HIPAA-certified developers, we understand the significant challenges that healthcare software vendors face. We prioritize the elimination of risks for both your company and your customers, ensuring that compliance is not compromised.
Discover more about our Healthcare IT services and how we can help you navigate the complexities of the industry.