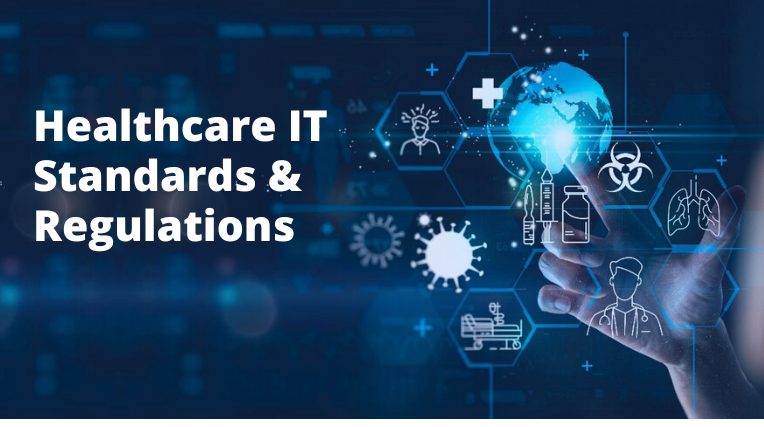 Standards & Regulations for Healthcare IT Services and Software development
Healthcare IT services are now essential to the smooth operation of medical institutions. ERPs, EHRs, and other types of med-tech software bring the digital revolution to healthcare and hasten the growth of health organizations. However, healthcare software development continues to fall under a hazy umbrella of IT standards and regulations.
It is crucial to increase understanding of IT standards that help to tackle security challenges in the age of digitalization in the healthcare sector. In the medical industry, using the software requires handling crucial patient data. The procedures that healthcare facilities typically take to comply with data privacy laws are revealed through a survey that was done in the United States. As you can see, it is absolutely essential to follow data management rules when creating medical software.
What will you learn?
You can read our blog post to learn about the main rules and laws required for healthcare IT Services and software development. Learning about IT standards for healthcare will help you better grasp how healthcare software works, whether you're trying to design healthcare solutions or you're a vendor of medical software. You will learn:
Common IT regulations in the healthcare industry,
How implementing IT standards can make health organizations perform better,
Features that any medical software must have,
How to handle data security in health technology applications.
What are the accepted IT standards in the healthcare industry?
It's crucial to keep in mind the fundamental IT standards when creating healthcare solutions, such as:
Security & Privacy Standards

Setting up dependable administrative and technological rules requires using privacy and security standards while creating medical software. It assists in preventing unwanted access to and exposure of sensitive health data and confidential patient information.
HIPAA for guaranteeing data security

Health Insurance Portability and Accountability Act (HIPAA), which is enacted in the US, codifies all privacy requirements for holding medical records. It describes, for instance, how codes are used in medical billing (such as ICD-10-CM, CPT, HCPCS, CDT, and NDC).

What is HIPAA?

Health Insurance Portability and Accountability Act (HIPAA) medical software requirements for the United States apply to some eHealth and mHealth apps. It is comparable to Europe's GDPR (General Data Protection Regulation). National requirements for the protection of specific health information are established by the HIPAA Privacy Rule.
Content Standards
The structure of the content in electronic medical papers is governed by a set of rules. They assist in appropriately organizing the medical data and adhere to a structure that is transparent and simple to comprehend.
Using C-CDA to organize health records

A fundamental framework for producing and managing electronic documents in the healthcare industry is called C-CDA (Consolidated Clinical Document Architecture). It facilitates medical record organization and patient data collection. When organizing clinical papers, C-CDA is useful, especially in the following situations:

The Continuity of Care Document (CCD), contains medical content regarding a patient, such as family history, information about diseases or allergies, etc. Documents with CCD support data transfer. The Diagnostic Report is useful for simply sharing the information gleaned from the diagnostic pictures when patients are moved across medical facilities.
Transport Standards
Data communication between various health systems is made easier by transport standards. They recommend important components that facilitate the interchange of medical data and documents, such as suitable formats, architecture, data, coding techniques, or APIs.
FHIR for medical record access h3

While HIPAA compliance and regulations for the healthcare industry serve to safeguard software against interference, they should also be followed for healthcare data security. The two main standards to keep in mind when developing healthcare software are FHIR and HL7.

Legislation called FHIR (Fast Healthcare Interoperability Resources) controls the electronic transmission of clinical data. The HL7 FHIR standard has better interoperability than the previous versions of the HL7 healthcare standard. It is a collection of RESTful HTTP APIs that make data sharing and communication across various medical software applications easier. FHIR has many advantages for patients in addition to those it offers healthcare platform administrators and medical professionals. FHIR also encourages the creation of medical applications, enabling everyone with an app to gain exclusive access to crucial medical records.

Main IT standards for creating healthcare software include the areas such as:

Medical terminology,
Content and structure of medical documents,
Data exchange,
Transport,
Privacy and security.
Major Characteristics of Medical Software Maintaining High IT Standards
The main component of creating MedTech solutions is adhering to fundamental IT rules. Here are the key components of medical software that will make it easier for every modern healthcare facility to manage digital data.
Content Storage

The rules for controlling medical material must be considered while creating a medical platform or application. Any medical facility will benefit from having access to transparent information about all medical operations in one location. Cloud-based healthcare software will give your company excellent data management and security. Updates will make it simpler to add various changes to the medical records. Process Automation

No of the size of the healthcare organization, departmental coordination is essential to developing consistent policy. You need effective data transfer between various software and instruments whether you are in charge of an entire, sophisticated healthcare system or just one department inside a medical firm. Software with automated workflows will assist you in effectively managing all medical procedures. Both healthcare systems and medical applications should support updating and simplifying medical regulations.

Receipt of Signatures

Digital signature capture for clinical records should be a part of good healthcare software. Every sort of medical software must have the capability to lawfully collect electronic signatures on crucial patient papers. This lends credibility to your medical organization. Additionally, it's the best solution to comply with medical-legal standards and safeguard your healthcare enterprise from fines.

Version management

Since it creates a shared environment for all regulations inside a single medical institution, it is a crucial component of good healthcare software. You can follow the history if you have authority over several medical software versions. It provides information about every policy's revision or updates, for instance. This makes it possible to identify who on the medical team modified the system, no matter how small the change, and when. Additionally, it stops medical staff from having access to out-of-date patient data.
Final Thoughts on Healthcare Compliance and Regulations
You must be aware of the regulations before working on an EHR, telehealth solution, healthcare compliance software, or any other compliance apps.
If not, you'll need to put together a team with the necessary expertise or employ a vendor for software development. While internal hiring takes a long time, outsourcing lets you start developing HIPAA-compliant software as soon as you locate the proper provider.
KPi-tech is a Healthcare IT Company with experience creating compliance software and integrations for the healthcare industry. We are aware of the restrictions that apply to various markets because we have completed numerous healthcare projects for clients in the US region.