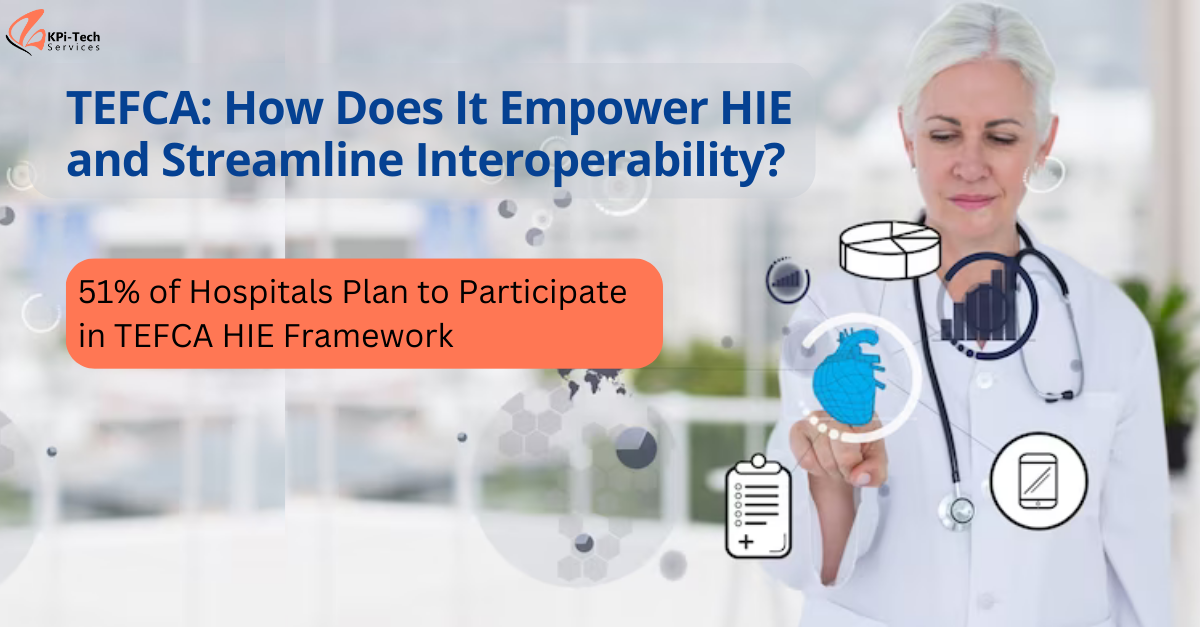 TEFCA: How Does It Empower HIE and Streamline Interoperability?
The utilization of healthcare information exchange (HIE) is significantly influencing healthcare interoperability. Various healthcare organizations, including doctor offices, clinics, labs, and hospitals, are embracing technology by transitioning from manual to electronic medical records processing.
The adoption of HIE brings forth numerous advantages, ranging from cost savings to improved patient outcomes. Hence, it is essential to comprehend the benefits, obstacles, and future prospects of HIE in the healthcare sector.
What is HIE?
Healthcare information exchange (HIE) is a secure electronic method that allows healthcare providers, such as doctors, nurses, and pharmacists, to access and share vital patient information. This exchange of data can occur through various means like web portals, mobile apps, and other devices.
HIE enables independent physicians to deliver value-based care by facilitating the sharing of patient data. When patients visit specialty providers or undergo lab tests, their primary care physician needs access to visit notes and test results to provide appropriate and effective care. Electronic exchange of information is much more efficient than traditional paper-based methods like hand-delivery or fax.
Physicians using electronic health records (EHRs)can benefit from HIE by easily sharing patient information between different EHR systems and healthcare providers. This streamlines the process of providing care to patients and enables seamless movement between different care facilities.
The American Medical Informatics Association highlights the critical role of HIEs in achieving national goals related to population health improvement, patient safety, and cost reduction. Federal agencies like ONC are promoting nationwide HIE adoption through initiatives like TEFCA under the 21st Century Cures Act.
TEFCA and HIE
TEFCA stands for the Trusted Exchange Framework and Common Agreement. In the 21st Century Cures Act of 2016, Congress directed the U.S. Department of Health and Human Services (HHS) Office of the National Coordinator of Health Information Technology (ONC) to establish a nationwide interoperability framework for the exchange of electronic health information. Interoperability is the ability to exchange data across different technology systems without special effort on the part of the user.
TEFCA's primary objective is to establish a nationwide framework for health information exchange (HIE) that enables the secure and seamless sharing of electronic health information between different healthcare organizations, providers, and health information networks. The goal is to create a more connected and coordinated healthcare ecosystem, allowing patients, healthcare providers, and payers to access and share relevant health data efficiently and securely.
Key components of TEFCA include:
Common Agreement:

TEFCA establishes a standardized "Common Agreement" that sets the rules, technical standards, and policies for sharing electronic health information across different HIE networks. This agreement aims to streamline data exchange processes and ensure that all participants adhere to consistent standards.

CQualified Health Information Networks (QHINs):

TEFCA designates organizations or entities as Qualified Health Information Networks (QHINs), which act as intermediaries to facilitate the secure exchange of health information between different participants within the health IT ecosystem. QHINs must meet certain criteria to qualify for this designation.

Principles for Trusted Exchange:

TEFCA outlines a set of principles for trusted health information exchange, emphasizing privacy, security, data integrity, and data availability.

Governance:

The framework includes provisions for governing the activities of QHINs and other participants, ensuring compliance with the Common Agreement and fostering trust within the exchange network.

Patient Access and Privacy:

TEFCA aims to empower patients to access and manage their health information through secure and user-friendly means while also safeguarding patient privacy and data security.
Who is TEFCA for?
TEFCA benefits a broad spectrum of healthcare stakeholders in the US, including healthcare providers, payers, patients, and technology vendors. It enables secure and standardized health information exchange, leading to improved patient outcomes, reduced administrative burden, increased efficiency, and new business opportunities.
Healthcare Providers:

TEFCA allows healthcare facilities to exchange information securely, access complete patient histories, and enhance clinical decision-making. It also streamlines administrative processes and promotes patient engagement

Healthcare Payers:

Health insurers and government payers can access standardized health information to better manage risk and control costs. They can identify areas for improved patient outcomes and implement targeted care management strategies.

Patients:

Patients benefit from better-informed clinical decisions based on comprehensive medical histories. They gain more control over their health information and easier access to medical records, empowering them in their healthcare decisions.

Technology Vendors:

Adherence to TEFCA requirements enables healthcare IT vendors to develop interoperable systems that cater to providers, payers, and patients. They can create standardized interfaces and data translation services to facilitate secure health information exchange.
According to an analysis by the Office of the National Coordinator for Health Information Technology (ONC) of survey data from the American Hospital Association (AHA) conducted until December 2022, more than half of hospitals are familiar with the Trusted Exchange Framework and Common Agreement (TEFCA) and have intentions to participate in the Health Information Exchange (HIE) framework.
The survey revealed that 25 percent of hospitals were unaware of TEFCA, while 23 percent were aware of its existence but uncertain about their participation. Only a minimal one percent of hospitals indicated that they were aware of TEFCA but had no plans to participate.
Measuring HIE Benefits
Hospitals participating in HIEs significantly reduced 30-day readmission rates compared to non-participating hospitals, leading to better care coordination and informed decision-making.
HIEs provide hospitals with timely access to critical patient data, resulting in fewer intensive care unit (ICU) admissions.
States with well-established HIE networks have seen reductions in emergency department visits, as HIEs enable better care coordination and decision-making, reducing the need for unnecessary emergency visits.
HIEs help reduce duplicate imaging procedures by providing physicians with easy access to previous test results, leading to a decrease in repeat CT, ultrasound, and chest X-ray procedures.
HIEs improve population health management by facilitating better data sharing between public health agencies and healthcare providers during pandemics, allowing for real-time monitoring of disease progression and faster test result availability.
Implementation of HIE systems leads to improved patient safety outcomes and lower costs associated with more efficient care delivery processes.
As more states invest in their health information technology infrastructure, the nation can expect even more significant gains in the form of a genuinely interconnected healthcare ecosystem. Stats for lagging
Cost Saving with effective HIE Implementation
Many states have shown significant cost savings benefits through their health information exchange (HIE) initiatives. For instance:
In South Carolina, the use of the Carolina eHealth Alliance (CeHA) HIE led to cost savings and improved patient care. Studies in the greater Charleston region revealed decreased resource use, increased Medicare-allowable reimbursements,and estimated cost savings of $1.2 million over 12 months in an academic ED.
Indiana's statewide HIE, the Indiana Health Information Exchange (IHIE), reduced hospital admissions by 26% over five years and lowered overall healthcare costs. IHIE connected over 100 hospitals, enabling quick and secure access to patient information.
In New York, the Statewide Health Information Network (SHIN-NY) HIE resulted in an estimated annual cost savings of $12 million. It reduced duplicate testing, allowed informed decisions about additional imaging studies, and improved collaboration among healthcare teams for better patient care.
These examples demonstrate the significant financial benefits and cost savings associated with effective HIE implementation, making it an essential tool for improving patient care coordination and reducing healthcare costs.
Barriers to HIE Adoption
Complex Implementation
The implementation of TEFCA poses significant challenges, necessitating substantial investments in technology and infrastructure. Healthcare stakeholders must navigate intricate legal and regulatory requirements to upgrade or replace their current IT systems, incurring both costs and time.
Interoperability
Interoperability is another critical aspect of TEFCA, ensuring seamless data exchange among healthcare stakeholders regardless of their technology platforms. Achieving interoperability involves adopting standardized data elements, exchange protocols, and developing interfaces and data translation services, which can be especially challenging given the diverse array of IT systems in use.
Technical Infrastructure Challenges
Healthcare providers need robust, secure, and scalable IT systems to handle large volumes of sensitive health information. Integrating disparate EHR systems is challenging due to differences in data formats, standards, and terminologies used.
Lack of Immediate Financial Incentives:
Many providers may not see immediate financial benefits from investing in HIE initiatives. Emphasizing long-term improved patient outcomes and cost savings can drive adoption.
Privacy Concerns
Data privacy and security are crucial aspects of TEFCA, obligating healthcare stakeholders to exchange patient data securely while adhering to HIPAA and other data privacy regulations. It becomes essential to establish robust policies and procedures to protect patient data from misuse or unauthorized disclosure.
Varying State-Level Regulations
Different states have varying policies regarding HIEs, impacting adoption rates. Harmonizing regulations could facilitate smoother health information exchange across state lines.
Strategies to Overcome Barriers
Technical Infrastructure:

Adopt interoperable EHR systems with standardized HL7 interfaces for easier integration with other software applications. Seek guidance from health IT experts to build efficient HIE infrastructures.

Comprehensive Planning:

: Develop a well-thought-out implementation plan that includes a clear roadmap, milestones, and timelines. Identify potential challenges and risks beforehand to mitigate them effectively.

Stakeholder Engagement:

: Involve all relevant stakeholders, including healthcare providers, payers, technology vendors, and regulatory authorities, in the planning and decision-making process. Encourage open communication and collaboration to ensure everyone's needs are considered.

Interoperability Standards:

Adopt standardized data formats, exchange protocols, and terminologies, such as HL7-FHIR, to ensure seamless data sharing among different healthcare systems. This promotes interoperability and reduces data integration complexities.

Financial Incentives:

Highlight the long-term benefits of improved patient outcomes and cost savings to encourage investment in HIE.

Privacy

Prioritize data privacy and security compliance by implementing HIPAA regulations to protect patient data and maintain trust among patients and providers.

Technical Assistance and Support:

Get technical assistance and support during the implementation phase. This can include training sessions, workshops, and access to resources to help them navigate the complexities of the process.

Continuous Evaluation and Improvement:

Continuously evaluate the implementation progress and performance metrics. Use feedback from stakeholders to make necessary improvements and adjustments to the process.

Regulatory Compliance:

Stay up-to-date with evolving regulations and ensure that all stakeholders comply with TEFCA and other relevant healthcare regulations.

State-Level Regulations:

Advocate for harmonizing state-level policies to facilitate smoother health information exchange across state lines.

Federal Support:

Get benefits of federal funding programs like ONC grants to support HIE initiatives.
By addressing these challenges and implementing effective strategies, healthcare organizations can overcome barriers and achieve widespread adoption of HIE and HDU systems, leading to improved care coordination and better patient outcomes.
Get Started with HIE
To get started with an HIE, there are several options available to you:
Vendor Integration:

Check if your EHR software has Direct Secure Message integrated, allowing you to send HIPAA-compliant email messages without leaving the EHR.

Local Network:

Some hospitals or health systems offer ways to connect with other providers in your geographical area for continuity of care. Inquire with local hospitals where you have affiliations.

Regional HIE:

Look for a regional HIE in your area that provides a high level of support and allows connection with other providers in the region and state.

Statewide HIE:

Many states have designated entities that offer data exchange services. Search for your state name plus "HIE" to find statewide options. If the statewide HIE doesn't serve individual practices, they can direct you to local networks that can provide connection services.
With the growing importance of interoperability, HIEs are crucial, and there are ample options available for joining one. Implementing the right HIE can improve the quality of care and positively impact your practice or hospital's bottom line. If you have questions about the benefits of HIEs, consider reaching out to Azalea Health for more information.
How will TEFCA work in 2023?
FHIR Standardization
TEFCA aims to standardize health information exchange using FHIR-based APIs among QHINs and healthcare stakeholders. This standardized approach reduces manual data entry and facilitates efficient and accurate data exchange, promoting the development of innovative healthcare applications and services.
The evolving Common Agreement in 2023 will govern information exchange among healthcare stakeholders. It will define roles, responsibilities, data-sharing terms, and privacy safeguards within the national HIE infrastructure.
Throughout 2023, qualifying healthcare stakeholders will actively implement TEFCA by meeting technical and operational requirements, signing the Common Agreement, and possibly upgrading IT systems for secure and interoperable data sharing. The ONC oversees the implementation process to ensure compliance.
TEFCA's impact by the end of 2023 will be significant for the healthcare industry. Secure and interoperable health information exchange will lead to improved patient outcomes, reduced administrative burden, increased efficiency, and new opportunities for innovation and growth.
Achieve Seamless HIE Interoperability with KPi-Tech's Healthcare Integration Services
HIE achieves interoperability by integrating with EHR systems. This integration with third-party systems enhances the power of HIE, enabling healthcare organizations to enhance their operational efficiency. A healthcare IT company can assist by providing expertise in integrating HIE with EHR systems, customization to match specific organizational needs, and ensuring data security and compliance.
KPi-Tech is a well-established healthcare IT company that focuses on delivering Healthcare Interoperability services and solutions tailored to providers and healthcare organizations. With over two decades of experience, KPi-Tech excels in creating custom solutions that facilitate secure and interoperable data sharing as envisioned by TEFCA. By leveraging our expertise, we aim to enhance patient outcomes while alleviating administrative burdens for our clients.
Contact us to address the issues that persist in legacy systems used for exchanging health information