KPi-Tech helped a US based Healthcare data analytics company 5x faster client onboarding on their CRM with Testing Automation.
Business Vertical:
Healthcare Technology
Main Challenge:
Optimize CRM implementation for faster onboarding. Streamline CRM implementation process to minimize time.
Overview
The client is a prominent healthcare data analytics firm based in the USA, specializing in providing software solutions such as CRM for a comprehensive understanding of growth and performance. Their CRM product serves a diverse user base of approximately 10,000 healthcare organizations like health and hospice providers, skilled nursing organizations, ACOs, DCEs etc.
Business Need
Onboarding new clients onto the CRM platform involves an implementation process that typically spans 40-50 hours. This comprehensive process covers essential activities like integrations, quality assurance (QA), training, as well as two weeks of dedicated live support during and after the go-live phase.
The client wants to reduce the implementation time for new clients while enhancing the quality, efficiency, and productivity of their implementation team.
Challenges
The lack of comprehensive documentation made it difficult to identify inefficiencies and delays in the process.

To tackle this challenge, we conducted a thorough analysis of the existing implementation process to identify areas of improvement.

We developed an "as-is" swim-lane process flow to gain a comprehensive understanding of all project phases. Through this analysis, we successfully identified specific activities that were causing delays and impeding efficiency.
Solution
In the analysis of the swim-lane workflow, it was discovered that certain activities, specifically the QA testing of data mappings on the CRM application, required a considerable amount of time, typically 3-4 hours to complete. To reduce the testing duration, improve accuracy, and expedite the overall implementation timeline, a solution was proposed to automate the testing process using Selenium.
The challenge faced was providing inputs to Selenium scripts due to the client's proprietary business engine, which followed unique playbooks for each client. To overcome this, a solution was suggested: using a configuration file for script inputs. Additionally, separate test suites for each business unit category were recommended. This approach facilitated comprehensive system mapping testing and generated detailed reports on test case outcomes, including pass/fail status and failure reasons. Implementing these suggestions enabled the client to effectively tackle the challenge and ensure thorough CRM system testing.
Created a customized process flow for the QA automation using selenium, (See below).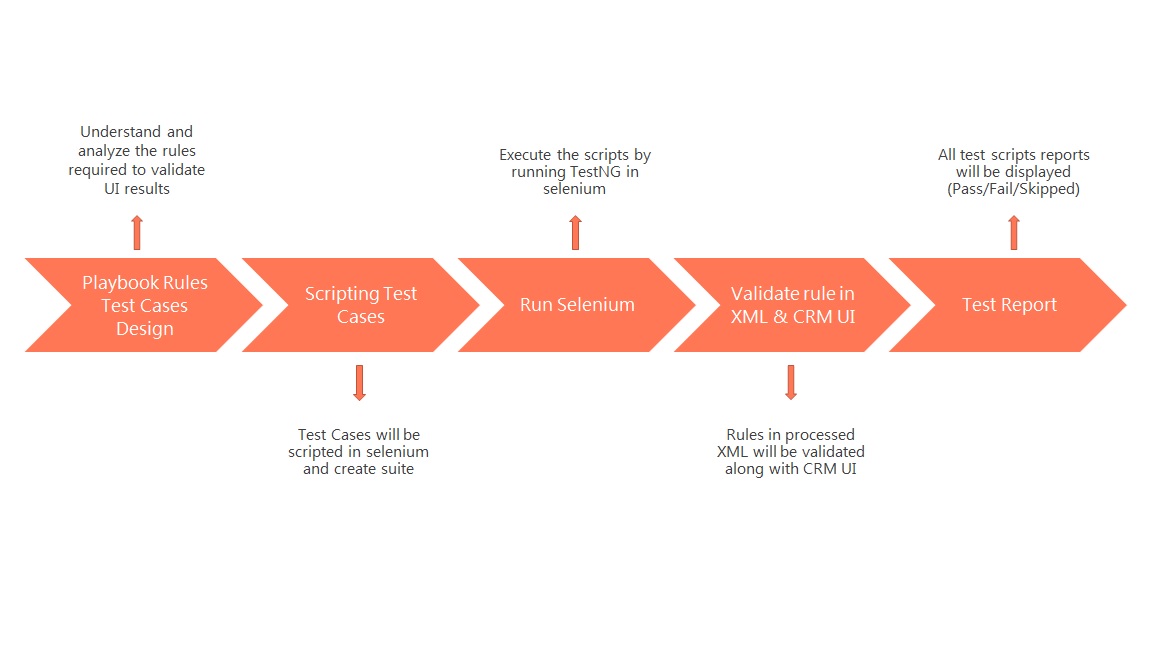 CRM Automation Workflow
Result
The testing time for client was reduced by an impressive 93%. The time required for testing one client's CRM application decreased from 180 minutes to just 12 minutes.
Now, while onboarding 10 different clients, the time is reduced from 1,800 minutes (30 hours) to only 120 minutes (2 hours).
Onboarding of new clients was now 15X times faster while maintaining a high level of quality in their services.
As a result, our solution provided an astounding return on investment (ROI) of 10 times the initial investment on solution.
By streamlining the implementation process and automating testing with Selenium, our client experienced substantial time savings, improved efficiency, and enhanced productivity.
Discover how QA Automation Testing in Healthcare Applications can lead to high efficiency and cost savings.
>